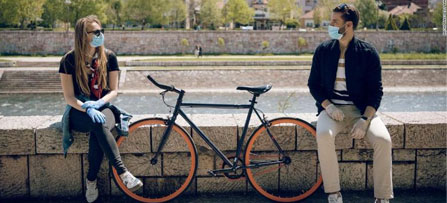 As originally reported by Matt Villano and featured on CNN. 
(CNN) Nothing is certain in the world of dating. But for Poornima Ravishankar, a lawyer from northern New Jersey, the coronavirus pandemic has brought an unexpected twist.
A boyfriend. Whom she's only seen in person once. And whom she's never touched. The duo met on Bumble, and their courtship started slowly. First came FaceTime drinks — whiskey for him, Champagne with a bourbon chaser for her. Then they graduated to watching the "High Fidelity" on Hulu, he in his place and she at hers. Along the way they've texted and chatted for hours on end.
Summer is not completely canceled. Here are 100 things we can do with or without kids.
Finally, more than two months after meeting for the first time, Ravishankar and her new "(sort of) boyfriend" finally agreed to meet up in real life for a hike at Garret Mountain Reservation in Woodland Park, New Jersey, just outside of New York City. The two hiked a few miles. They talked. The entire three hours they were together, the lovebirds stayed 6 feet apart. And they had a blast.
"Of all the guys I've met online, he's the only one I took months to meet in real life and the one [with whom] I connected most," Ravishankar, 43, said. "The conversations carried us through."
Ravishankar isn't the only person to find this slower pace fulfilling. Many single people around the world are experiencing unexpected benefits of social distancing, too. Following US Centers for Disease Control and Prevention and other countries'
guidelines of staying 6 feet from others
has forced suitors to focus on getting to know each other instead of getting drunk or getting naked.
Ines Vaniman, a licensed marriage and family therapist in Lafayette, California, likened the phenomenon to an unexpectedly chaste Victorian romance for the modern age.
"It's like going Victorian, only with a millennial twist," said Vaniman, who counsels patients about dating. "You can't touch but you can use your other senses as you get to know someone and gauge how well that person might fit into your life. The situation requires you to be brave. And I'd bet the relationships that come out of it will be really strong."
Why distance matters
In a sense, the trend makes perfect sense. The pandemic brings all sorts of uncertainties, which can be scary in an existential way. Faced with this potentially life-threatening future, single people are seeking comfort in camaraderie, in togetherness, in connection.
In fact, at a time when common sense might suggest people would be less inclined to date, traffic on various online dating services has picked up.