Queer Support & Process Group
The group is a safe and inclusive space for individuals who identify as part of the LGBTQIA+ community to come together and explore their thoughts, feelings, and experiences. The group provides a supportive environment where members can share their stories, receive validation, and connect with others who have similar experiences.
In this group, members work on developing coping skills and strategies to manage challenges related to their sexuality or gender identity. Members may also explore their relationships with themselves and others, and how their identities intersect with other aspects of their lives, such as race, culture, religion, and family dynamics.
The group is facilitated by trained therapists who understand the unique challenges faced by the queer community and can provide guidance and support throughout the process. The therapy is focused on building resilience, promoting self-care, and fostering a sense of community and belonging among its members.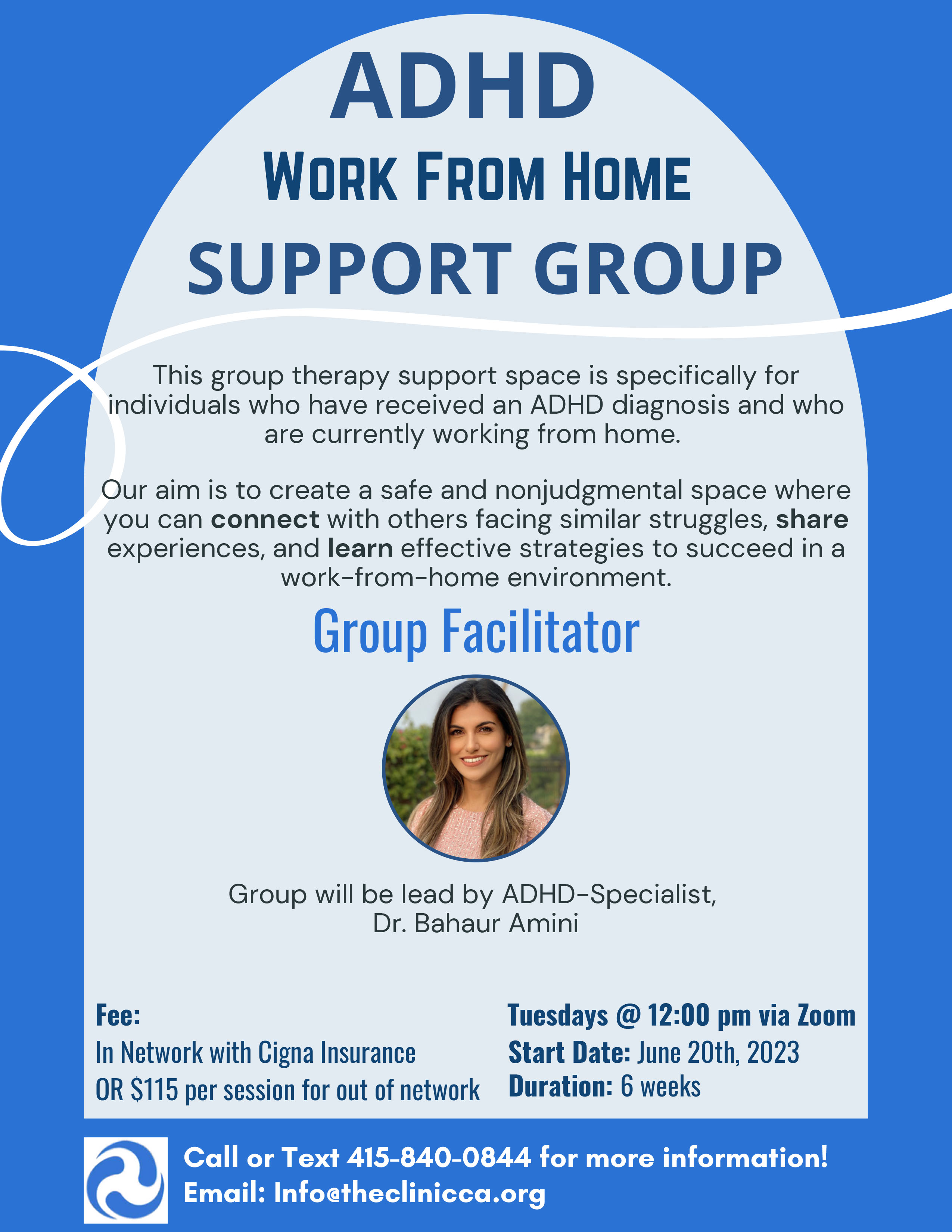 ADHD Work From Home Support Group
Peer Learning & Supportive Community
This group provides a space to process and receive support from individuals who truly understand the unique struggles of living with ADHD and have discovered innovative tools to support their workflow in the remote – working environment.
Expert Guidance
Our Facilitator will provide evidence-based strategies and practical tips on a variety of topics including time management, enhancing productivity and task completion, and managing transitions.
Skill Development
From time management and organization to coping distractions and maintaining motivation, we'll explore various strategies that can impve your well-being.
Medication
Management
learn more ▶
Psychotherapy
learn more ▶
Neuropsychology
learn more ▶
Cognitive Behavioral
Therapy
learn more ▶
Couples & Families
Therapy
learn more ▶
Sexual Health
learn more ▶
Sleep Disorders
learn more ▶
Stress & Burnout
learn more ▶
Telemedicine &
Video Conference
learn more ▶
Chronic Pain
learn more ▶
Consultation
learn more ▶
Precision Medicine
learn more ▶
Behavioral Medicine
learn more ▶
Ketamine-Assisted Therapy (KAT)
learn more ▶
Choose your preferred location
The Clinic, San Francisco, CA
2095 Van Ness Ave, 
San Francisco, CA 94109
The Clinic, Palo Alto, CA
540 University Avenue
Palo Alto, CA 94301
The Clinic, San Jose, CA
2011 Forest Avenue, Suite 10
San Jose, CA 95128
The Clinic, La Jolla, CA
7777 Fay Avenue, Suite 205
La Jolla, CA 92037
The Clinic, San Francisco, CA
100 Bush Street, 1428, 
San Francisco, CA 94104
The Clinic, San Francisco, CA
1736 Divisadero Street,
San Francisco, CA94115
The Clinic, Corte Madera, CA
100 Meadowcreek Dr, #115 and #225
Corte Madera, CA 94925
The Clinic, Berkeley, CA
46 Kala Bagai Way, Suite 24,
Berkeley, CA 94704

The Clinic, Beverly Hills, CA
9777 Wilshire Boulevard, Suite 820,
Beverly Hills, CA 90212

The Clinic, Orinda, CA
4 Orinda Way, Suite 250-B,
Orinda, CA 94563