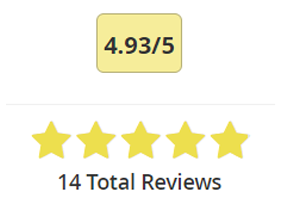 The Clinic
Clinical Psychologists and Psychiatrists Located Across the State of California
The Clinic always appreciates feedback from our valued patients. To date, we're thrilled to have collected 14 reviews with an average rating of 4.93 out of 5 stars. Please read what others are saying about The Clinic below, and as always, we would love to collect your feedback.
William S.
Submitted 05/05/20

Dr. Masri really stands out among doctors as a doctor who cares. He's knowledgeable and compassionate and I know I'm in good hands. I felt comfortable with him from the initial visit and I will continue to work with him. He has helped a great deal with my sleep issues. I would not hesitate to recommend him highly to anyone looking for a great sleep medicine specialist.
Mia E.
Submitted 10/26/19

Samantha has been an incredible support from day 1. She heard my personal hesitations and madder sure I felt comfortable and empowered in my care. I really appreciate all the help.
Lorena M.
Submitted 10/25/19

High quality and knowledgeable
Sean N.
Submitted 06/06/19

Very convenient. Lots of options to connect with providers. Plays nice with others. He genuinely happy I found them.
Robert M.
Submitted 05/07/19

Dr. Ho is very sensitive to the patient's needs and concerns. She customizes her treatment to the patient. She is creative in her approach and believes in the patient.
Nina P.
Submitted 03/10/19

Dr. Portillo makes me feel heard and she asks really thoughtful questions that have helped me develop a stronger understanding of myself and my relationships.
Robert M.
Submitted 01/30/19

Very positive and relevant.
Richard J.
Submitted 03/13/18

I feel very comfortable discussing my issues with Dr. Blair.
Rae B.
Submitted 03/10/18

Dr. Dihmes took great care with our family to understand us and provide gentle, informative, and helpful guidance.
Olive C.
Submitted 03/09/18

Dr. Gabriel is the most professional and caring doctor whom I have ever met. Without him, I might get kill by the car accident because the medication has caused the serious eyesight problem that impairs my daily life. Especially, this happens frequently during the night time. Thank's for all his sincere and hard effort to cure my symptoms. Thanks!
Ariel L.
Submitted 02/02/18

Incredible!
Katherine A.
Submitted 07/06/17

Great experience! Coming back to see Dr. Rizvi.
Jolie H.
Submitted 04/18/17

Heard — I feel heard! So very empowering!
T. R.
Submitted 03/06/17

Great. Helpful. Encouraging and positive.
Medication
Management
learn more ▶
Psychotherapy
learn more ▶
Neuropsychology
learn more ▶
Cognitive Behavioral
Therapy
learn more ▶
Couples & Families
Therapy
learn more ▶
Sexual Health
learn more ▶
Sleep Disorders
learn more ▶
Stress & Burnout
learn more ▶
Telemedicine &
Video Conference
learn more ▶
Chronic Pain
learn more ▶
Substance Abuse
learn more ▶
Precision Medicine
learn more ▶
Behavioral Medicine
learn more ▶
Consultation
learn more ▶
Ketamine-Assisted Therapy (KAT)
learn more ▶
Choose your preferred location
The Clinic, San Francisco, CA
2095 Van Ness Ave, 
San Francisco, CA 94109
The Clinic, Palo Alto, CA
540 University Avenue
Palo Alto, CA 94301
The Clinic, San Jose, CA
2011 Forest Avenue, Suite 10
San Jose, CA 95128
The Clinic, La Jolla, CA
7777 Fay Avenue, Suite 205
La Jolla, CA 92037
The Clinic, San Francisco, CA
100 Bush Street, 1428, 
San Francisco, CA 94104
The Clinic, San Francisco, CA
1736 Divisadero Street,
San Francisco, CA94115
The Clinic, Corte Madera, CA
100 Meadowcreek Dr, #115 and #225
Corte Madera, CA 94925
The Clinic, Berkeley, CA
46 Kala Bagai Way, Suite 24,
Berkeley, CA 94704

The Clinic, Beverly Hills, CA
9777 Wilshire Boulevard, Suite 820,
Beverly Hills, CA 90212

The Clinic, Orinda, CA
4 Orinda Way, Suite 250-B,
Orinda, CA 94563